The New Tropic has changed up its voter guide a little bit this year.
Our goal is still to provide you with a resource for filling out your ballot in the most informed manner possible, but due to growing interest in getting everyone out to vote, there seem to be more guides than ever this year. We've compiled as many resources as we could find from the last few weeks to help you better understand this primary election. This is a living document, so as new guides come to our attention, we'll make sure to include them here. Did we miss something? Let us know.
Guides like this are made possible thanks to our supporting members. If you find this useful please consider signing up for a one month trial today. 
Voting FAQ
Vote-By-Mail FAQ
Can I drop off my ballot in person? Yes. At early voting locations via secure dropbox or at these two locations:

Miami-Dade Elections Department
2700 NW 87th Avenue, Miami, FL 3317
Stephen P. Clark Center Voter Information Center
111 NW 1st Street, Miami, FL 33128

Can I drop my ballot off at my precinct on Election Day? No.
Can I see if my mail in ballot was received? Yep.
Do I need a stamp? No. "Postage is paid for you during countywide elections. A stamp is not required."
When are mail in ballots due? A Vote-by-Mail ballot may be returned via the United States Postal Service and must be received by 7 p.m. on Election Day (Aug 18, 2020). To be safe, you should mail it by Aug 12, 2020.
Resources and Guides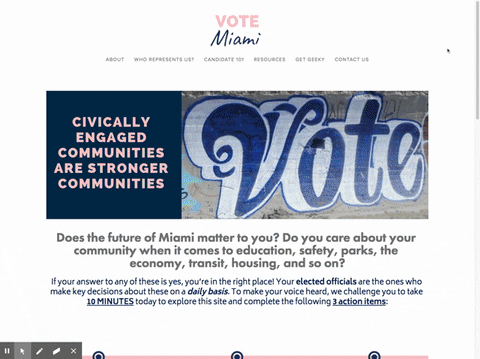 Vote Miami is a regional collaboration spearheaded by Radical Partners in partnership with Knight Foundation, Miami Herald, The Miami Foundation, and an expansive list of community partners. Check them out for registration questions, general candidate information, and ways to get involved.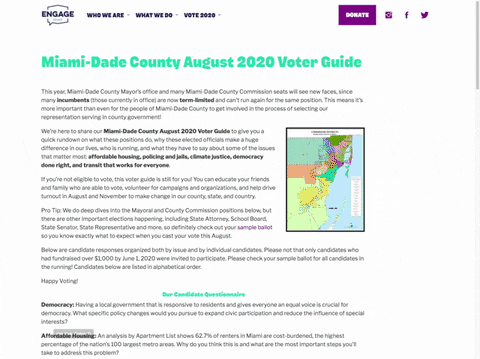 Engage Miami works to get young voters active and engaged with our local elections. They've compiled a voter guide along with a questionnaire answered by the candidates tackling the topics of democracy, affordable housing, climate justice, safe communities, and transit. Dive in and see how your picks for local office answered.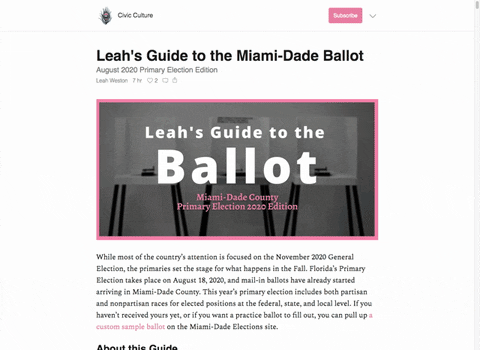 Leah Weston is a former legal aid attorney and self-proclaimed policy wonk who previously spent three years working in our local government. This may be the most comprehensive and involved of this year's guides: Besides detailing the candidates, key terms, and what's at stake, Leah was kind enough to offer her own informed expertise on each race.
Ballotpedia offers a deep-end dive into each candidate's history — particularly incumbents — and shares how they've voted previously, their stance on key issues, and more. 
Curious to see how our community feels about key issues? Check out the results of this wide-ranging survey by the Miami Foundation. The survey polled 800 residents (including voters and non-voters alike) on topics including public space, gun violence,  economic development, housing, and more. 
Endorsements
Looking to support candidates based on affiliated endorsements? We've got an alphabetical list of the endorsements we could track down. These endorsements cover a wide range of ideologies and beliefs — while we understand and appreciate the importance of endorsements,  we ask you to use them as only part of your decision-making process and to do your own research.. See something missing? Let us know.
Guides like this are made possible thanks to our supporting members. If you find this useful please consider signing up for a one month trial today.