Opening Day is a day of wishes for a baseball fan, a day when 162 — maybe, hopefully more — unblemished games sprawl out in front of your team, waiting to be won. Being a fan is an exercise in wishful thinking to begin with, and I make no attempt to hide my allegiances. When I fell for Miami, I fell for the home team, and I fell hard.
My team has had it tough of late. I joined Fish fandom in time to see Anibal Sanchez pitch a no-no and then wave goodbye to Miguel Cabrera the next season. I slogged along through the Blue Jays fire sale and the Ozzie Guillen mess. I hit a low point when we lost 100 games in 2013. My wife and I were among the few in the stands, a mournful crack echoing through the near-empty new stadium as another slugger banged out a hit against our boys. And, yes, the stadium financing deal may not have been a smart move for Miami, but I truly love spending an afternoon there.
Today, for the first time in a few years, I have a little spark of hope that the tide can turn for the Marlins. Sportswriters think we may have an outside shot at the playoffs for the first time in more than a decade. Ichiro is here. José Fernández is on his way back. Giancarlo Stanton is ready to rip. The lineup is full of young players who are poised for a breakout season. I wish that the Marlins turn the corner as a baseball team this year, but more important, I wish that Miami turns the corner on its baseball team. It could happen. Even Mayor Carlos Gimenez, ushered in on a wave of Marlins Park outrage, says he might be in the stands this season.
The symbol that perhaps best captures my own change of heart towers over center field. At its unveiling, most media and many fans, including me, summed up the Marlins Park sculpture in a single word — "tacky." Players complained that it was distracting to hitters. (The data doesn't bear that out, and Marlins staff say there's particular interest in trying to ding it during batting practice.) My wife and I jokingly called it the Hialeah lawn ornament, but despite all my initial misgivings, the thing has won me over. Three years in, I cannot wait for that big, garish beast to come alive every time a Marlin is at the plate.
Luis Dones guards the key like a secret. When the ump circles the air with his fist, Dones initiates the launch sequence. He pulls the key from his hiding spot, sticks it into the lock, turns it right, spins the "display function" dial to position 2 – "home run" – and presses a green glowing button labeled "RUN CYCLE." 450 feet across the field, the waves rock, seagulls swoops, lights flash, flamingos flap, marlins leap into the air, a jet of water rockets up with a "fwoooosh," and the biggest fish in the park rises up to spin 360 degrees across the Miami skyline. It's 34 seconds of mechanical madness, while the crowd cheers Stanton around the bases.
Dones, game presentation and events manager for the Marlins, scripts and oversees the production of every game — the announcements, the music, what's on the jumbotron. He may be the busiest guy at a Marlins game, but he slows down for the sculpture. When the team was designing the control panel, Dones said he didn't want a simple button to operate the sculpture, so they made him a rocket launcher. "I don't want to be that idiot who makes it go off on ESPN on accident," he said. "I want it to be as secure as possible."
On Friday, as the grounds crew tamped down the dirt on the mound in preparation for Opening Day, Dones let down his guard and gave me one shot at the glowing green button. I pressed it, saw the sculpture start and whooped — like an idiot — like I do from the stands when Dones does the button pressing. And what does Dones do when he presses the button? "I'm celebrating, to be honest with you," he said. "My favorite thing is when I hear guys yelling out there, 'Light that sucker up!'"
When he does light it up, Dones says he looks out from the booth to see hundreds of smartphones raised in the air to broadcast the celebration on social media.  "As much as people hate on it and say things, I see them," he said. "I guarantee they're the same ones [pulling out their phones and] taking photos," he said.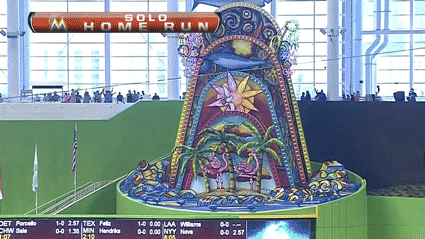 When folk artist Red Grooms designed the sculpture, he was thinking of his childhood memories of Florida vacations, said Jeff King, vice president of facilities for the Marlins. And, the comically bright scene certainly evokes that vibe. It's the vintage whimsy of the '50s Florida postcard wishing you were here, the flashing siren call of the roadside tourist trap carnival, the expectant omnipresence of San Lazaro guarding your abuelita's front yard – all writ large over the outfield.
It's probably more complicated than a carnival attraction, though. From the visitor's dugout, King nods toward its features as he rattles off some specs:
The top of the top arch reaches 69 feet skyward from the field.
The top fish on the sculpture, the one that Grooms named "Homer," measures 26 feet long and 9 feet high and raises 15 feet into the air to spin, thanks to a one-ton counterweight.
The seagulls each have an 8-foot wingspan and spin on opposite ends of a 20-foot arm.
The smaller marlins are 19 feet long and spin on a 38-foot arm.
The water cannon shoots 30 gallons of water 40 feet high four times in the 34-second sequence.
The steel machinery is skinned in aluminum, and the whole thing is designed to withstand 150 mile-per-hour hurricane winds.
King and his team keep the sculpture running. They test it once a week in the off-season, and have engineers put it through its paces quarterly and annually. They tinker, test, and train as if the Marlins will smack balls into the stands 5, 10 times an inning, just to make sure the sculpture is ready for to deliver its half-minute spectacle. They check every bulb, every component, every detail.
"It's part of the fabric of the building," King said. "The first thing fans look to see is where Stanton hit it, and then they look to see the sculpture." What most people never see is the true scale of it, or what exactly is underneath the hood, he said.
After our chat, King leads us around the track and down through a maze of plumbing and wires beneath the stadium to see for ourselves. We stand under the sculpture in a room about the size of a downtown studio apartment. One of the smaller Marlins hangs upside down over my head, more than three times my height, and I am surprised to see that the motors to spin it could fit into my backpack. It's all extremely energy efficient, King tells me.
"Do you want to see it run?" King asks. Yes, of course I do.
King keys in a code and the waves thrum back-and-forth. The sculpture clanks into its motions, each feature spinning and churning in sequence. The water cannon blasts its final shot, and spray cascades down through the machinery as the motors slow and finally stop. Thirty-four seconds seems longer down here, and when it's over, quiet settles over the concrete room.
It took me awhile to come around on this giant, gaudy thing, but here it is overhead, and I am delighted. Baseball fans talk of the sport in reverent tones, as if it is religion. They memorize stats like penitents for their teams, pore over lineups, pray for assorted game-time miracles, and make pilgrimage to ballparks. It seems more than fitting that Miami's sanctuary would feature this sort of altar — one that invites you to raise your hands and dance rather than bow your head in worship.
Miami is an ostentatious city – young, brash, eager, and reinventing itself all the time. South Beach bleeds neon. Wynwood bleeds spray paint. Little Havana bleeds salsa music. We just signed off on a giant paperclip of a skyscraper downtown that the developer bets will attract annual visitors on par with the Eiffel Tower. Miami doesn't do small. We do big. We do flashy. We do fun. And, regardless of your aesthetic sensibilities, we have the biggest, flashiest, most fun monument in all of baseball. This year, it seems like we may actually start seeing a Marlins team that's just flashy and fun enough to stand up to it.
When Stanton jacks one out of left field this season, Luis Dones will press that glowing green button and look out over the criss-cross cut outfield grass to watch the sculpture and cheer. I hope Miami cheers along with him. It's Opening Day, and this year my wish is that Miami could fall just a little bit back in love with its home team.